As naturally as many families become associated with specific industries that they work within, it's become commonplace for families to become associated with specific sports in specific parts of the world. Within the hockey world, arguably the most influential family in history – with apologies to Maurice and Henri Richard – is the Sutter family. Through two generations, the six Sutters have crisscrossed the National Hockey League as players, executives and humanitarians. The family's prominence in hockey in the province of Alberta was cemented in 2017 when they were collectively inducted into the Alberta Hockey Hall of Fame.
The on-ice contributions of the Sutter family are well documented, but their impact on hockey off the ice – particularly in Alberta – may be understated.
Which Sutter Brothers Played in the NHL?
| | | | | | | |
| --- | --- | --- | --- | --- | --- | --- |
| Name | GP | G | A | Pts | PIM | Drafted |
| Brent | 1,111 | 363 | 466 | 829 | 1,054 | 17th overall in 1980 (Islanders) |
| Brian | 779 | 303 | 333 | 636 | 1,786 | 20th overall in 1976 (Blues) |
| Ron | 1,093 | 205 | 330 | 535 | 1,352 | 4th overall in 1982 (Flyers) |
| Duane | 731 | 139 | 203 | 342 | 1,333 | 17th overall in 1979 (Islanders) |
| Rich | 874 | 149 | 166 | 315 | 1,411 | 10th overall in 1982 (Penguins) |
| Darryl | 406 | 161 | 118 | 279 | 288 | 179th overall in 1978 (Blackhawks) |
Louis and Grace Sutter married in the early 1950s and settled on a farm near Viking, Alberta – roughly an hour and a half drive southeast of Edmonton. The couple had seven children, all boys, between 1954 and 1963. All seven boys worked on the farm and played minor hockey in the area. Six of their seven boys went on to play major junior hockey and then moved onto the NHL – the eldest son, Gary (born 1954), opted not to try-out for the Alberta Junior Hockey League's Red Deer Rustlers and stayed home on the family farm.
Here's how the other six brothers fared in hockey.
Brian (born 1956), a left wing, played for the AJHL's Red Deer Rustlers and the WHL's Lethbridge Broncos. He was drafted by the St Louis Blues in the 1976 NHL Draft and turned pro immediately, beginning a 779-game NHL career that was spent entirely with the Blues. Following his 1988 retirement, he began an extensive coaching career that spanned NHL stops in St. Louis, Boston, Calgary and Chicago. He also coached the Red Deer Rebels in 2007-08 and more recently has served as bench boss for the Chinook senior hockey league's Bentley Generals and Innisfail Eagles.
Darryl (born 1958), a left wing, played for the Rustlers and Broncos. He was drafted by the Chicago Blackhawks in the 1978 NHL Draft and went pro following a stint playing in Japan for the Iwakura Tomakomai. He played exclusively for the Blackhawks before retiring and starting a lengthy coaching career. He had stints behind the bench in Chicago, San Jose, Calgary and Los Angeles, heading to the Stanley Cup Final three times and winning two Cups (both with the Kings). He also served as the general manager of the Flames from 2003-10 and returned as head coach of Calgary midway through the 2020-21 season.
Duane (born 1960), a right wing, played for the Rustlers and Broncos. He was drafted by the New York Islanders in the 1979 NHL Draft and spent his pro career with the Islanders and Blackhawks. He won four Stanley Cups as part of the Islanders '80s dynasty. After his retirement, Duane dabbled in a lot of things: scouting for Chicago, coaching for the IHL's Indianapolis Ice, WHL's Medicine Hat Tigers and the NHL's Florida Panthers. He eventually found his niche in player development and scouting, working with the Panthers, Flames and Edmonton Oilers in that capacity until he was relieved of these duties by Edmonton in 2019.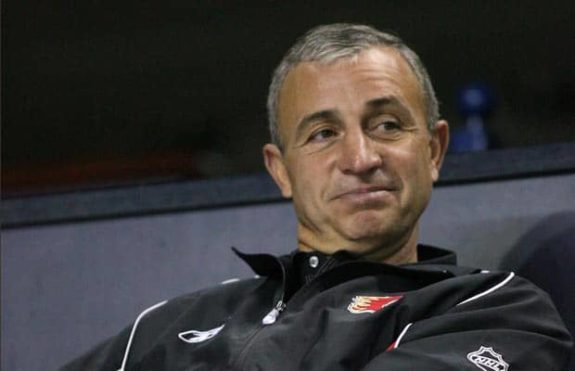 Brent (born 1962), a center, played for the Rustlers and Broncos. He was drafted by the Islanders in 1980 and spent his pro career with them and the Blackhawks. He won three Cups as part of the Islanders dynasty, three of them alongside older brother Duane. Upon retirement, he went back to Central Alberta: he's been the owner and president of the WHL's Red Deer Rebels continuously since 1999 and has been their general manager and head coach when he hasn't been tied up with NHL coaching jobs – he had stints with New Jersey and Calgary.
Rich (born 1963), a right wing, played for the Rustlers and Broncos. After being drafted by the Pittsburgh Penguins in 1982, Rich bounced around a bit; he had NHL stops in Pittsburgh, Philadelphia, Vancouver, St. Louis, Chicago, Tampa Bay and Chicago. His final pro season (1994-95) saw him spend time with three different NHL clubs. Since hanging up his skates, he's scouted for Minnesota, Phoenix and Columbus and spent time with the Lethbridge Hurricanes and the University of Lethbridge.
Ron (born 1963), a center, played for the Rustlers and Broncos. He was drafted by 1982 by the Philadelphia Flyers in 1982, then bounced around the NHL in a similar fashion to his twin Rich; Ron spent time with Philadelphia, St. Louis, Quebec, the Islanders, San Jose and Calgary. Ron was the only brother to play for an Alberta NHL team, and has remained with the Flames organization in scouting and player development since his retirement.
For the curious, the twins played together in Philadelphia (1983-86) and St. Louis (1991-93). Rich and Ron played against Duane and Brent on October 30, 1983, the first time in NHL history four brother were involved in a single game. Rich is curiously the only one of the original six Sutter brothers to never be employed by the Flames at one time or another. Duane is the only brother to have any ties with the Oilers. Gary was the only brother that regularly played on the blue line.
The Next Generation of Sutters (Stats via Elite Prospects)
Starting in 1980, when the first generation of Sutters were still well-established as NHL players, the brothers began having children of their own.
Shaun, Brian's son (born 1980), a right wing, played for the WHL's Lethbridge Hurricanes, Medicine Hat Tigers and Calgary Hitmen. He was drafted by the Flames in 1998 – while his father was coaching the team but never made much noise as a pro. He bounced around the AHL, ECHL and Europe before retiring and joining the front office of the Red Deer Rebels.
Brett, Darryl's son (born 1987), a left wing, played for the WHL's Kootenay Ice and Red Deer Rebels. He was drafted by the Flames in 2005 – while his father was general manager. He's established himself as a pretty solid minor league player, though his NHL stints with Calgary and Carolina were unremarkable – except when his own father traded him to the Hurricanes following an off-ice incident during a Flames road trip. Later, he was traded to the Minnesota Wild during the 2013-14 season, spending two seasons there before being moved to the AHL's Ontario Reign during the 2015-16 season. He's still playing for them, acting as a consistent veteran presence for a young Reign team.
Merrick, Brent's son (born 1987), a forward, played in the AJHL with the Canmore Eagles, but never progressed to the WHL. He instead dove into the front office of the Rebels, where he's been a senior vice-president for several seasons.
Brandon, Brent's son (born 1989), a center, played for the WHL's Rebels and was drafted by the Carolina Hurricanes in 2007. He's had NHL stints with Carolina, Pittsburgh and Vancouver, where he currently plays.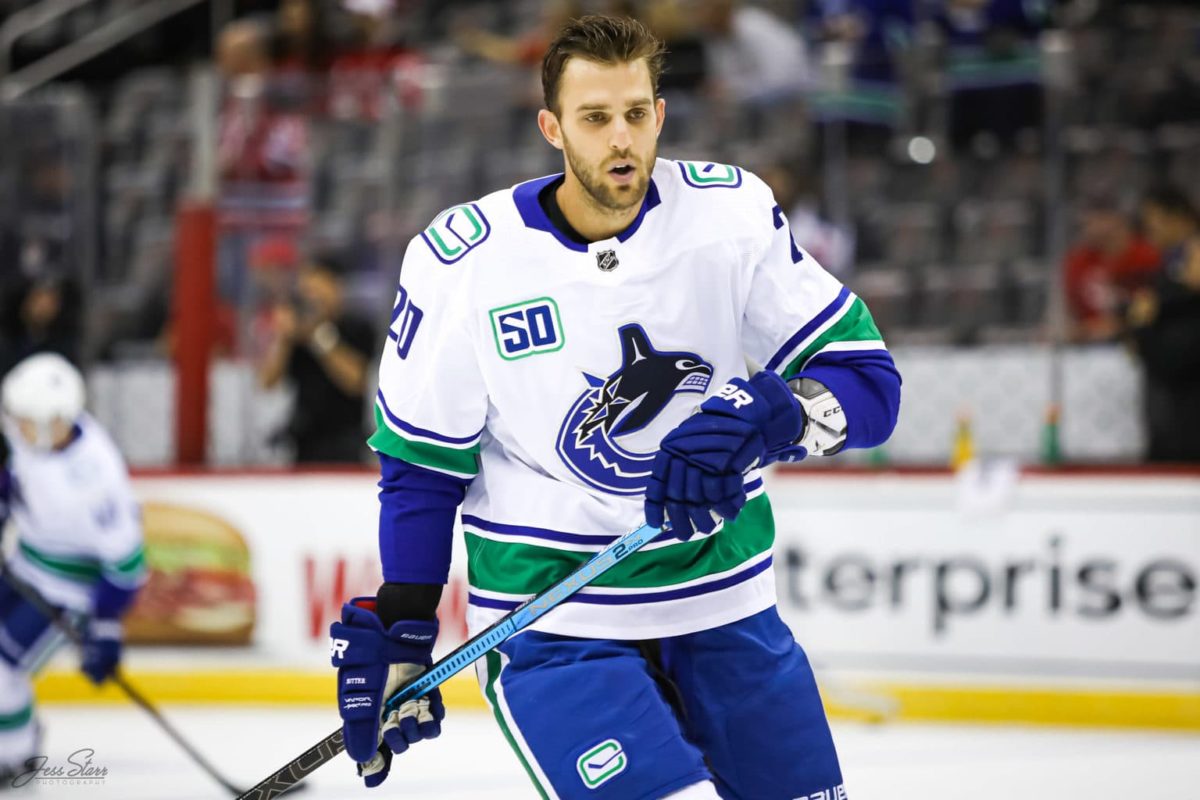 Brody, Duane's son (born 1991), a center, played for the WHL's Saskatoon Blades and Hurricanes before being drafted by the Carolina Hurricanes in 2011. He never really got an NHL foothold and has bounced around the AHL until the 2018-19 season, when he moved to Europe to join Sport Vaasa of the SM-Liiga (Finnish elite league) and is currently playing for the Iserlohn Roosters of the DEL (German hockey league).
Lukas, Rich's son (born 1993), a center, played for the WHL's Blades and Rebels. He was drafted twice; in 2012 by the Winnipeg Jets and in 2014 by the Islanders. He bounced around minor pro for a couple seasons before heading to the University of Saskatoon.
Riley, Ron's son (born 1999), a right wing, played for the WHL's Everett Silvertips before being drafted by the Washington Capitals in 2018 (93rd overall). He currently plays for the Capitals' AHL affiliate, the Hershey Bears.
There was one point in 2011-12 where Brett, Brandon and Brody were all playing pro in the Carolina organization.
The Sutter Family Legacy
From 1976-77 to 2000-01, at least one Sutter brother was continuously on an NHL roster. From 1979-80 to 1997-98, multiple Sutters were in the NHL. Heck, from 1982-83 to 1986-87, all six brothers were NHLers. There was just a seven-season gap between Ron Sutter's NHL departure and Brandon and Brett Sutter playing in the NHL in 2008-09.
Over the last 45 years, 32 seasons have seen at least one Sutter involved in Alberta hockey in a major capacity – either as a player or in an off-ice role. While not quite as successful on the ice as their fathers, the younger Sutters have transitioned into off-ice roles extremely quickly – their fathers were usually in the 40s when they began new roles, while many of the younger general leapt into those roles in their 20s.
Related: Bobby Orr Caps Off Hall-of-Fame Career
To borrow some phrasing from another Alberta icon, pro wrestler Bret "The Hitman" Hart: we can't say there wouldn't be hockey in Alberta without the Sutter brothers, but we can say it wouldn't be as good. Considering how many of the next generation are intricately involved in the game, their impact will continue to be felt for decades to come.